G20 summit in Delhi: India's growing global influence takes centre stage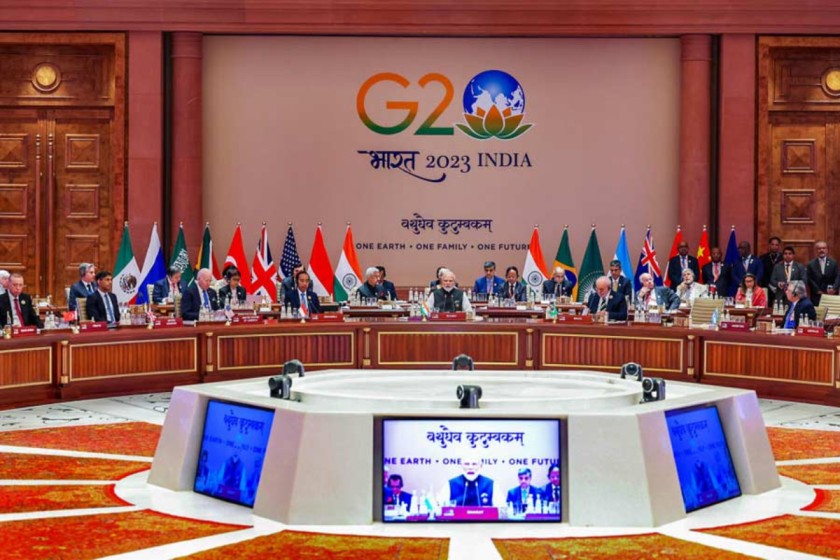 The recent G20 Summit in Delhi highlighted India's growing influence in global diplomacy, featuring key agreements and developments.
World leaders representing the top 20 economies concluded their summit in the vibrant Indian capital, Delhi, on Sunday, marking a pivotal moment in global diplomacy. The G20 Summit showcased India's burgeoning influence on the world stage, with several key agreements and developments stealing the spotlight. Here are the major takeaways from this historic gathering:
1. New Delhi declaration promotes peace and international law
The New Delhi Leaders' Summit Declaration, a pivotal outcome of India's G20 presidency, prioritizes peace over conflict and calls upon nations to uphold international law. Prime Minister Narendra Modi unveiled this significant declaration, which centered on addressing the ongoing conflict in Ukraine and the simmering geopolitical tensions worldwide. A notable achievement was the consensus reached, thanks to the relentless efforts of Indian Foreign Services officers Enam Gambhir, Ashish Sinha, Abhay Thakur, and Nagaraj Naidu Kakanur. The arduous negotiations on Ukraine saw India collaborate with Brazil and South Africa, forming a diplomatic troika aimed at bridging the divide between the G7 and the Russia-China bloc. Phone conversations between Prime Minister Modi and President Putin, along with a bilateral meeting with President Biden, played pivotal roles in sealing this historic deal.
2. African Union gains permanent membership
In a momentous move, the G20 officially welcomed the African Union (AU) as a permanent member, elevating it to the same status as the European Union. This remarkable step enhances representation from the Global South within the G20, underlining a commitment to inclusivity and equitable participation.
3. Diplomatic pragmatism on Ukraine
G20 nations, while addressing the Ukraine conflict, expressed a consensus on key principles, including refraining from acquiring territory by force and acknowledging the suffering of the Ukrainian people. This marked a shift from the previous year's direct condemnation of Russia, highlighting a pragmatic approach to diplomacy.
4. India's diplomatic leadership takes centre stage
Hosted by India, the summit provided a platform for Prime Minister Narendra Modi to assert India's growing role as an influential diplomatic and economic power. India's pivotal role in maintaining unity on Ukraine and facilitating discussions on pressing global issues underscored its rising prominence.
5. India-Middle East-Europe economic corridor takes shape
India, in collaboration with the United States, the United Arab Emirates, Saudi Arabia, France, Germany, Italy, and the European Union, inked a Memorandum of Understanding (MoU) to establish the ambitious India-Middle East-Europe Economic Corridor. This groundbreaking initiative aims to boost trade and connectivity between these regions, fostering economic cooperation and regional development.
6. Commitment to the green climate fund
British Prime Minister Rishi Sunak pledged a substantial $2 billion to the Green Climate Fund, designed to support developing nations in addressing the challenges posed by climate change. This commitment underscores the G20's dedication to addressing pressing environmental concerns.
7. Progress on climate change
G20 leaders committed to tripling global renewable energy capacity by 2030 and recognized the imperative to phase out unabated coal power. While specific policies and funding pathways were not outlined at the summit, it sets the stage for comprehensive discussions at the upcoming COP28 U.N. climate summit.
8. India's central bank digital currency pilot
India's Reserve Bank is poised to launch a pilot program for the Central Bank Digital Currency, which has the potential to revolutionize financial systems and usher in a new era of digital banking.
9. Geopolitical realignment
A notable development was Saudi Arabia's Crown Prince, Mohammed Bin Salman, forging closer ties with India during the G20 Summit, signalling a shift in regional alliances and bypassing traditional partnerships.
In summary, the G20 Summit in Delhi served as a compelling showcase of India's emergence as a diplomatic and economic force on the global stage. The outcomes of the summit in areas such as global diplomacy, infrastructure development, climate action, and financial innovation reinforce India's standing in the international arena and its commitment to shaping global agendas.