Reinventing the game: How Oracle is reimagining its capabilities with innovations in applications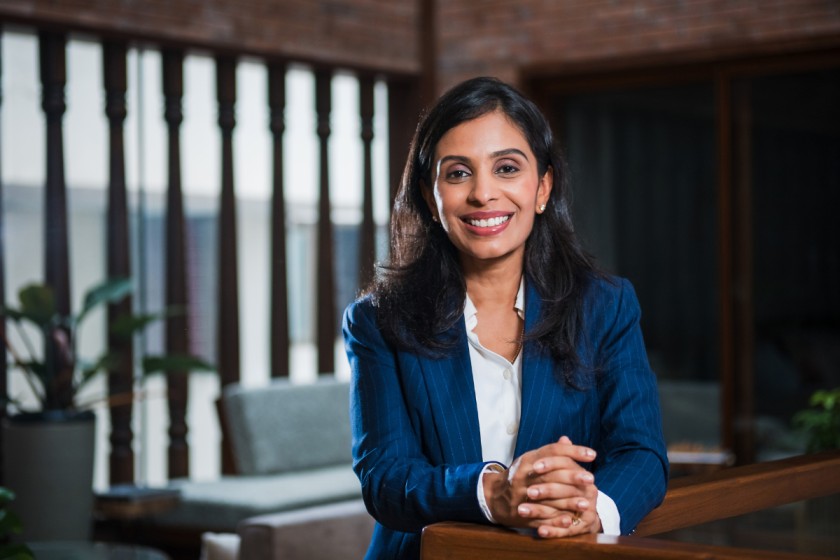 CFO India recently engaged in a conversation with Deepa Param Singhal, Vice President – Cloud Applications, Oracle, discussing the prevailing trends shaping the cloud applications landscape. Deepa also shared insights on the significant impact of Generative AI on technology companies' portfolios and its role in shaping the future of applications in this domain.
Below are the edited excerpts:
Q. Please provide insight into the recent major trends in the cloud applications space and how Generative AI is influencing the innovative capabilities of technology players in their applications portfolio.
Deepa: The advent of new technology has paved the way for cloud computing, providing a robust and seamless customer experience. Many organizations are migrating their legacy on-premises ERP solutions to modern cloud applications to become more agile, flexible, and secure, while also optimizing spending and boosting top-line growth. This adoption of new-age technologies is transforming various sectors, including healthcare, manufacturing, retail, e-commerce, public sector, and automotive.
Finance departments in these sectors are enhancing their functions to enable real-time inventory impact, cost optimization, improved risk assessment, efficient resource utilization, and task automation. Technologies like AI and ML are surpassing traditional efficiency levels, offering personalized services. The integration of these technologies into finance systems for tasks like automating AP invoice processing, account defaulting, risk assessment, collection, and fraud detection is now prominent.
AI, along with the evolution of Generative AI in human resources, finance, and supply chain functions, allows businesses to reinvent operations, optimize customer service, and increase productivity at lower costs. Generative AI can provide valuable business insights, automate routine tasks, and offer personalized recommendations.
Oracle's Fusion Cloud Customer Experience (CX) offerings, introduced at Oracle CloudWorld, are designed to optimize customer service, enhance productivity, and improve the customer experience. These offerings are supported by Oracle Cloud Infrastructure (OCI) Generative AI services and integrated into existing Oracle Fusion Service processes.
Q. Can you discuss the evolution of cloud-based EPM, ERP, and SCM solutions over the last few years and their impact on reshaping the role of CFOs and finance leaders in India?
Deepa: As per IDC, the Indian public cloud services market is set to reach $17.8 billion by 2027, with a projected CAGR of 23.4% for 2022-27. The report highlights that in 2022, SaaS continued to dominate the public cloud services market, followed by IaaS and PaaS, with the top two cloud service providers holding more than 40% of the India public cloud services market. EPM, ERP and SCM are the key pillars of the SaaS market, expected to drive significant growth.
ERP systems traditionally played a vital role in organisations, managing accounting, procurement processes, projects, and more. However, the shift to remote work has pushed companies to adopt cloud-based applications over traditional on-premise systems. Oracle, a leader in the application market, not only offers cloud-based solutions but also understands the evolving needs of modern CFOs.
Today's CFOs focus on strategic planning, decision-making, and digital transformation. They prioritize cultural change, digitalization, advanced analytics, and nurturing the next generation of CFOs. The pandemic has emphasized the need for a digital strategy to achieve business objectives. CFOs are innovating and adapting to unlock greater value.
We stand out as the exclusive vendor offering comprehensive end-to-end solutions, modernized processes, and adaptable flexibility for authentic cloud-based operations. With AI, ML, and Analytics, Oracle empowers CFOs across sectors in India to enhance decision-making and drive innovation.
At Oracle CloudWorld 2023, Providence, a prominent non-profit healthcare organization operating across seven US states, shared its success in consolidating business systems using the Oracle Fusion Cloud Applications Suite.
Q. Which specific industries or sectors are experiencing rapid transformation in Oracle's cloud application portfolio, and what factors are driving this transformation?
Deepa: Today, Oracle is a leading solutions provider across various sectors. Our Oracle Fusion Cloud ERP has become the standard choice for industries such as financial services, healthcare, manufacturing, automotive, agriculture, IT/ITES, and more, boosting operational efficiency for businesses. In India, we've partnered with prominent organizations like Kotak Mahindra Bank, Axis Bank, Texmaco, Raychem, Hindalco Industries Ltd, Essar, Apollo Hospitals, JK Tyres, JK Lakshmi Cement, Unilever, Mphasis, EXL, Omega Healthcare, Aurobindo Pharma, APAC Finance, Bank of Baroda Cards, SBI Card, and others to enhance their operational value with our cloud-based application solutions.
India is a dynamic and rapidly expanding market, where our SaaS solutions have been swiftly adopted by both large and midsize customers. Last year, 35% of our SaaS revenue in India came from new customers, underscoring the high adoption rate of our solutions. We're also witnessing a notable trend of customers in the banking and healthcare sectors migrating from on-premises to the cloud. Furthermore, our AI/ML capabilities within our application suite are driving transformation in key sectors.
Q. Could you share some examples of Oracle's pioneering products and solutions within the healthcare sector and highlight how they have benefitted healthcare customers?
Deepa: To meet the growing demand for better healthcare solutions in India, we must enhance efficiency and optimization in healthcare systems, both in government and private sectors. This emphasizes the need for accessible, cost-effective, and high-quality healthcare services. At Oracle, we have three primary goals: global health improvement, innovation acceleration, and healthcare cost reduction. Our capabilities are centered on developing products that address all three objectives.
Oracle's healthcare focus is to provide reliable healthcare solutions that integrate clinical, operational, and financial data, essential for modern healthcare systems. This integration yields numerous benefits, including improved patient care, increased efficiency, data-driven insights, interoperability, and data security. We recently introduced a specialized suite of innovations across our Fusion Cloud services within the healthcare industry – CX, Human Capital Management, Enterprise Resource Planning, and Supply Chain Management. With the healthcare sector evolving, organizations seek greater visibility and collaboration throughout the entire delivery system, from suppliers and payers to the final patient invoice. Our new capabilities enable them to consolidate disconnected systems, automate critical processes, and support diverse delivery models from telehealth to home and community-based care.
Our commitment to providing personalized solutions based on customers' business requirements has been unwavering. To address healthcare challenges in the country, harnessing cloud-based capabilities is crucial for sector transformation. Oracle has consistently worked on delivering purpose-built solutions for healthcare providers. For instance, Marengo Asia Hospitals, a prominent multispecialty hospital platform in India, supported by Samara Capital, Havells Family Investment Office, and Godrej Family Investment Office, uses Oracle Fusion Cloud ERP to gain comprehensive visibility of their operations. They needed a standardized solution that integrates internal processes like finance, procurement, order management, and procurement self-service. Oracle provided a single integrated solution that covers all these processes.
Q. How does Oracle integrate its new yet unique approach that spans across applications and infrastructure portfolios in India, and what benefits does this integration bring to your customers?
Deepa: In recent years, enterprises have shifted from siloed operations to a more integrated approach in planning. To stay competitive, businesses are investing in connected solutions to align with their goals. Oracle offers a platform that combines financial, operational, and line of business planning in a single cloud, enhancing planning accuracy, fostering collaboration, and enabling quick decision-making by sharing information across departments.
Our Oracle's Fusion Cloud Enterprise Performance Management (EPM) provides a comprehensive solution, integrating profitability and cost management, consolidation, reconciliation, narrative reporting, and business planning into one streamlined platform. It harnesses cutting-edge technologies such as artificial intelligence, machine learning, and predictive analytics to incorporate real-time data.
Our customers have experienced tangible benefits from these connected solutions, enabling contingency planning, the development of new models and strategies, improved profit margins, and increased productivity.
Q. What are the top three priorities of a modern CFO in terms of digital transformation?
Deepa: The digital transformation wave has profoundly impacted all business functions, including finance. As innovation accelerates across industries, the role of CFOs has become more critical and cohesive. With technology advancements like the cloud, businesses experience faster information, smarter data, leaner processes, and improved team organization, including in finance. CFOs consistently focus on business intelligence, data-driven analytics, and performance management, making these their top areas for investment.
In this modern technology era, the effectiveness of CFOs depends on the precision, comprehensiveness, and consistency of the data they gather and analyze. Therefore, CFOs are responsible for reporting, analyzing, and forecasting data effectively to make informed decisions for better business practices. CFOs now have access to real-time data and information for quicker decision-making, but their priority is delivering data in an actionable way, establishing an efficient process to turn information into action.
Another key priority for CFOs is driving operational excellence to stay ahead. This involves setting up standardized and centralized single-source systems, improving productivity, and reducing costs through centralized spend analytics.
In the digital era, the CFO's role extends beyond financial management to strategic planning, risk assessment, and leadership in leveraging technology to enhance the organization's competitiveness and performance.