Where are India Inc.'s Moonshots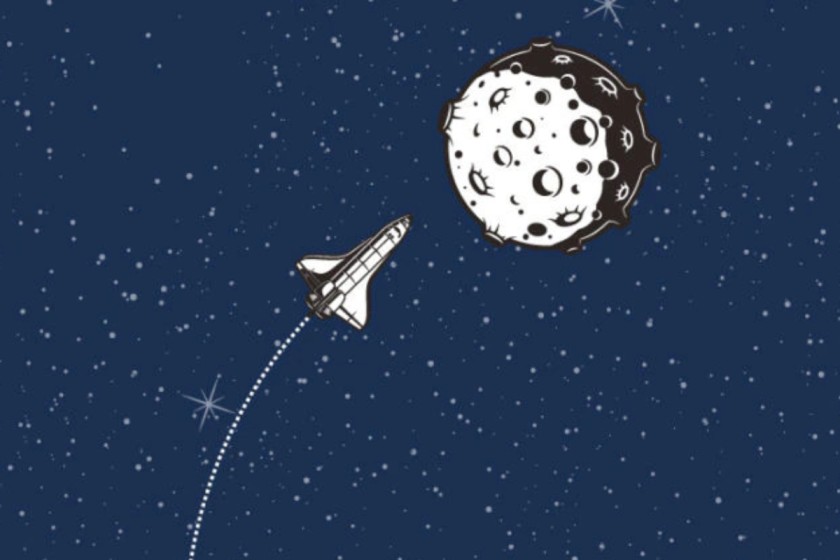 India's successful lunar mission on a tight budget should inspire its private sector to take more innovative risks.
Now that India has become the first country in the world to land a spacecraft near the moon's south pole — for less than half the money Christopher Nolan spent on the movie, Interstellar — its risk-averse private sector will hopefully be inspired to launch some moonshots of its own. Just beating investor expectations next quarter won't get them ahead in the long game in artificial intelligence or new materials and energy.
The numbers tell the story. Just before the pandemic, India was spending a paltry 1.2 trillion rupees ($15 billion) on research and development. Since at least 1995, R&D expenditure has remained stuck at around 0.7% of gross domestic product, with less than two-fifths of it coming from the private sector. Most of that, too, is about tinkering with existing technologies, especially in pharmaceuticals, computing and telecom, rather than original intellectual property. China's 25:1 lead over India in patent applications shows the gap quite clearly.  
The 12-fold jump in India's national income in dollar terms over the past three decades has been largely a product of labor-cost advantage over the West and a growing role for finance in the domestic economy. While corporate bosses in Mumbai and New Delhi like nothing better than to talk about how the 21st century will belong to India, they don't exactly care to expound on their own plans to make it happen. 
That's because they don't have one. Not that it should ever be contemplated, but imagine a scenario where the Indian Space Research Organisation is privatized. The government agency earns hundreds of million dollars by launching satellites for global clients. Put a capability like that under a computer-software czar in Bengaluru, and you'll get a flourishing outsourced service. But that's all you will get.
"Technology can and must be the great amplifier of our human potential, our humanity," Vishal Sikka, the chief executive of Infosys Ltd., wrote in the software exporter's 2015-16 annual report. The former SAP AG computer scientist, a co-author of a natural-language-processing patent, was talking about a small donation to a nonprofit lab in San Francisco. By the time OpenAI went commercial in 2019 — and Microsoft Corp. invested $1 billion in the ChatGPT-maker — Sikka was no longer around at the Indian company to write another check. Infosys may make plenty of money by helping its global clients run other people's large language models. But will it ever have another chance to own a foundational technology?  
Capital is no longer a constraint, at least for large Indian companies. And yet they haven't quite flexed their muscles. Tycoon Mukesh Ambani's Reliance Industries Ltd. spent $363 million on R&D last financial year. This was 15% more than the previous year, but still only 0.3% of revenue. Among other things, the telecom-to-petrochemicals firm is trying to come up with in-house technologies for carbon capture, so that its gigantic refinery could go from dirty "gray" hydrogen to less-polluting "blue" H2. That's just scratching the surface of the experimentation India — and the world — will need in low-carbon molecules.    
The inspiration that India's entrepreneurs have been waiting for has just arrived. The space program began 60 years ago, when the newly independent nation didn't have enough food for its people. It culminated late Wednesday in Chandrayaan-3, the mission that made history after Russia's failure last week to place a rover on the dark side of the moon. By borrowing a part of the celestial body's orbital energy, the spacecraft kept its fuel needs low and its budget under $75 million. "What gravity slingshots should we experiment with?" That's the question India Inc. must ask itself.   
Mind you, this is still India's Gilded Age. The litmus test for corporate genius is dominating competition (with the help of government contacts and contracts), not innovation. The kind of post-World War II technocratic revolution that American inventor and engineer Vannevar Bush would unleash in the US with his landmark 1945 report, Science: The Endless Frontier, is still some distance away. For the private sector to change, however, a lot will have to be set right first in the public sphere, starting with hopelessly underfunded university education.
Like with everything in India, it's hard to say if the glass is half full or half empty. On the one hand, news reports last month said that the government engineers who built the Chandrayaan-3 launch pad ahead of schedule hadn't been paid their salaries for 1 ½ years. On the other hand, Infosys Chairman Nandan Nilekani just gave $38 million to the Indian Institute of Technology in Mumbai, his alma mater. That's already half a moonshot worth of philanthropic capital. Albeit slowly, it's time to start counting down, perhaps. 
Written by Andy Mukherjee. Andy is a Bloomberg Opinion columnist covering industrial companies and financial services in Asia.