CFO India conducts the 13th edition of its CFO100 Conference & Felicitation Ceremony in Mumbai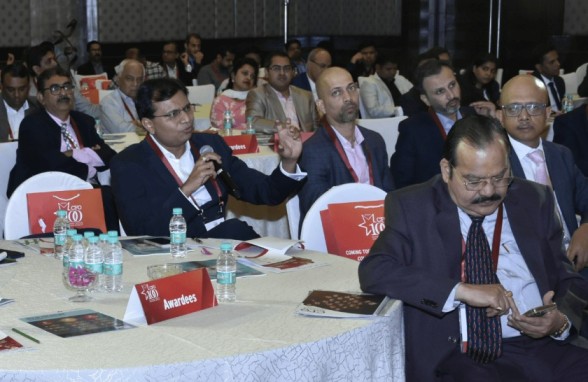 CFO India, a leading finance and business publication, recently organized the 13th edition of its prestigious CFO100 Conference & Felicitation Ceremony at Holiday Inn, Sahar, Andheri-East, Mumbai. The event brought together over 150 finance professionals from various industries to celebrate the achievements of the top 100 CFOs in India.
The CFO100 program recognizes the contributions and achievements of CFOs in the country who have demonstrated exceptional financial leadership, strategic thinking, and business acumen. The awardees are selected through a rigorous evaluation process, which includes a comprehensive survey of their professional accomplishments, industry peer review, and analysis of their financial performance.
The conference provided an opportunity for the CFOs to network with their peers, share insights on the latest financial trends and best practices, and learn from industry experts through a series of panel discussions and keynote sessions. The felicitation ceremony, held as part of the event, recognized the top 100 CFOs for their outstanding contributions to their respective companies and the industry as a whole.
The conference kicked off to an inspiring start with a thought-provoking opening address by S. Durgashankar, Former Member of the Group Executive Board, Mahindra & Mahindra, who challenged attendees to reflect on the everyday choices they make. This was followed by an insightful commentary by Siddhartha Sanyal, Chief Economist of Bandhan Bank, on the macro challenges facing companies and the key areas of focus for CFOs.
A great session by Rakesh Sinha of Quintes Global highlighted the three critical Cs in line with the conference's theme of 'collaborating to succeed.' He introduced attendees to a useful acronym – RUPT – which stands for rapid, unpredictable, paradoxical, and tangled.
One of the highlights of the conference was a fascinating session on 'Cracking the Decision Paradox' which featured a stellar panel of CFOs including Sandeep Batra of Pidilite Industries, Nandakumar S. Tirumalai of Tata Chemicals, and Vimal Agarwal of Mahindra Lifespaces. The panellists shared their thoughts on what moves the needle in decision-making and stressed the importance of being guided by the organization's reputation and being aware of guardrails. The audience poll revealed a heartening shift towards humane businesses and decision-making, with over 75% of respondents saying their company would be guided by reputational issues today, compared to only 15% 15 years ago.
The ensuing session discussed the future of finance, specifically the shift from traditional FP&A (Financial Planning and Analysis) to xP&A (Extended Planning and Analysis), led by Anaplan's Amit Gupta who emphasized the significance of connected planning for better decision-making and business outcomes.
Pritam Mohanty from SAP Concur presented on "Future Proofing Your Business with Intelligent Spend Management," where he shared insights on how businesses can improve their spending visibility, control, and compliance through intelligent spend management. He highlighted the advantages of using data-driven insights for strategic decision-making.
The tech savviness session that followed featured a panel of esteemed CFOs, including Yashpal Jain of Sandhar Technologies, Mayank Holani of Schneider Electric Infra, and Kailash Kumar Varodia of RXIL. They discussed why CFOs still struggle with technology, the emerging technologies on the horizon, and what "tech-savvy" would look like after 5 years.
Jatin Kalra from ACCA presented survey results of Global Talent Trends 2023 that showed the accountant profession in workplace transition, grappling with short-term challenges and longer-term uncertainties. With the pandemic's legacy having irreversibly changed our relationship with the workplace, the results were coloured by a gloomy economic outlook across the global economy.
The Conference was graced with the presence of the esteemed Shri Praveen Kadle, Founder & Chairman of Prachetas Capital and Former CEO of Tata Capital as the Chief Guest, whose presence brought immense wisdom, experience, and insights to the event. With his extensive experience as a CFO and CEO at the Tata Group, he offered practical advice on how CFOs can tackle difficult situations and maintain a resilient mindset. The attendees were fortunate to have received such valuable knowledge and guidance from a seasoned professional.
We also had the pleasure of witnessing the well-deserved recognition of three outstanding individuals as they were inducted into our esteemed Hall of Fame: S. Durgashankar, Robin Banerjee, and Sugata Sircar. We were overjoyed to witness this momentous occasion and celebrate their remarkable achievements.
Overall, the 13th CFO100 Conference & Felicitation Ceremony was a resounding success, reaffirming the importance of recognizing and celebrating the achievements of financial leaders who are driving India's economic growth and development.