Rethinking upskilling: An introspective quest for India Inc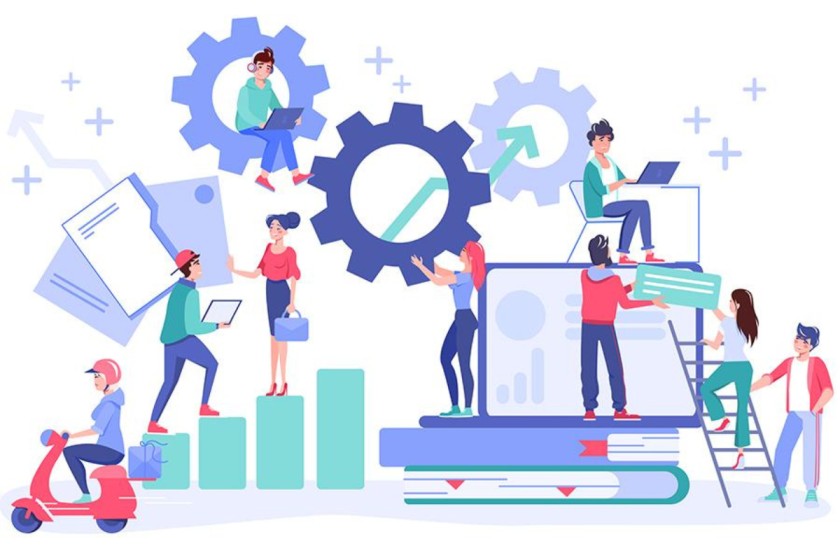 As disruptive technology widens skill gaps, Indian companies are reevaluating hiring and upskilling practices, and focusing on scalability.
With disruptive technology coming into play, throwing up huge skill gaps in their workforce, India Inc, is being forced to relook at their hiring and upskilling culture, according to a detailed news report on Deccan Herald. The picture, this far, is not so pretty, with most of them leaving their employees to their own resources to upskill or deploying third-party vendors to do the job. 
"Formal employment in India is about 9 per cent, and only a minuscule percentage of that is by top companies in the country. Upskilling is a continuous event in these large companies, which is a very small subset of jobs in India. What we need today is the scalability of upskilling outside of this 1 per cent, even in smaller organisations," Anandorup Ghose, partner at Deloitte India pointed out.
In fact, HR and industry experts DH spoke to suggested that a whopping 80 per cent of upskilling done by companies (that have bothered to invest in it) is from third-party vendors including upskilling companies and edtech platforms. The shrinking shelf life of skills is today compelling organisations and individuals to rely on learning on demand.
According to Vikram Ahuja, Managing Director, ANSR and CEO, Talent500, "Only 10-20 per cent of companies rely on internal upskilling, while 30-40 per cent use third party vendors. The rest don't have a structured programme.
The compulsion
According to Vishal Pradhan, who heads product management at iMocha, "Skills are getting transformed every 18-36 months (depending on the industry and role), so the frequency at which reskilling and upskilling needs to happen has to be 12-18 months per employee."
A foundit (previously monster.com) report recently found that while 40 per cent of jobs will need reskilling, 60 per cent will need upskilling by 2025, indicating no job will truly be spared by the tech revolution that is underway.
"This highlights the need for organisations to prioritise re-skilling initiatives to ensure their employees remain relevant in the evolving job market," said Gayathri Ramamurthy, Learning and Development Head – India, Capgemini.
The ground reality
"Individual realisation for the need to upskill and re-skill has not dawned fully, yet. While corporates are trying to tick boxes of L&D (learning and development), the focus of B2B edtechs is largely towards selling certificates," said Vaibhav Sisinty, Founder and Chief Executive Officer, GrowthSchool.
A recent survey conducted by HerKey (formerly JobsForHer) found 74 per cent of companies/large enterprises and 71 per cent of startups/ SMEs agree that their employees are entitled to an individual training budget to attend external training programs.
What needs to change
In fact, HR and industry experts DH spoke to suggested that a whopping 80 per cent of upskilling done by companies. "To ensure their workforce remains competitive and agile, organisations will need to constantly evaluate employees' individual capabilities and the future skills needed for their business to thrive," said Nishchae Suri, MD, Cornerstone India.
Another trend that stood out is employers hiring employees with specific skills based on demand. However, Ghose argued, "This psyche has to change. More employers should build rather than buy."
What falls far short of requirement is India's training capabilities. "We (companies) are still trying to react to that problem," observed Ruchi Ahluwalia, Group Chief People Officer, Quess Corp, adding that companies need to pay more attention to it now.
Third-party upskilling platforms fail to provide a practical learning environment. "In the last five years, edtech platforms have solved the problem of access. However, we need to turn more of this into training for the real world," said Giridhar LV, founder and CEO of upskilling startup Nuvepro Technologies.
The changed approach to hiring
HR professionals, today, advise Indian employees to approach job redundancy as the "techno layering' of jobs". "Layoffs can be attributed to a need for more skill forethought and workforce planning. It's a classic 'bullwhip' effect on the skill supply chain today. As a result, most organisations focus on identifying a workforce ready to embrace upskilling," said Ishita Bandyopadhyay – Associate Partner, Human Capital Solutions, India & SEA, Aon.
"Organisations today are hiring for attitude over skill. We are looking for employees who have a mindset around agility, learnability, and curiosity. Technical skills can be learned if these are present," said Janet Paul, Director, Human Resources – Asia Pacific and Japan & Middle East, Securonix.
The outlook
Currently, the Indian technology industry continues to be the net employer with over 5.4 million workforces, creating 290,000 new jobs in FY2023. "In order to meet the growing demand for technology talent, there's a dire need for organisations to come up with initiatives that are not only targeted towards skilling and upskilling their employees but are also targeted towards skilling individuals from tier 2 – tier 3 cities," suggested Nidhi Bhasin, CEO, Nasscom Foundation.