Are policy reforms unlocking opportunities for foreign companies to do business in India?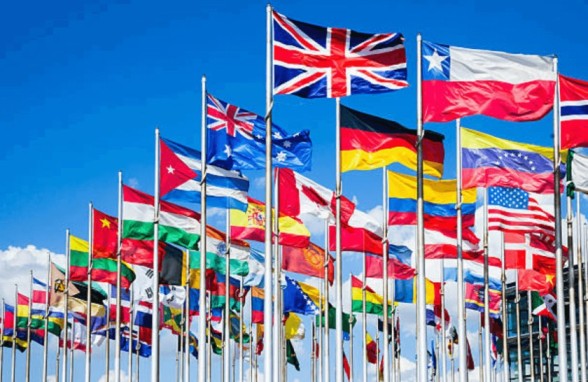 India's surging appeal for global manufacturing investments is driven by improved business environment, geopolitical factors, outshining Southeast Asia.
The Economist Intelligence Unit (EIU) reported earlier this month that India was one of the most improved countries in its quarterly forecast of the best business environments in the next five years, as mentioned on the live mint news website. In the EIU's Business Environment Ranking (BER) published on April 13, the South Asian nation climbed six notches on a global basis and from 14th to 10th among 17 economies in Asia.
However, the report warned that "stiff competition from peer emerging markets, especially in Southeast Asia, will make India's journey to becoming a major manufacturing power a long one. Excessive red tape and protectionist attitudes will remain challenges for investors".
The EIU's BER scores for India show that doing business in the country is becoming steadily easier.
The research and analysis division of the Economist Group attributed India's improved performance to "gains in its scores for foreign trade and exchange controls, infrastructure and technological readiness."
It added that "India's highest-scoring category is market opportunities, aided by the large and growing domestic market that the country offers, while political environment receives the country's lowest score."
As evidence of this improvement, Bloomberg in March this year reported that Apple contractor, Taiwan's Foxconn is looking to bolster manufacturing in India. The iPhone maker is planning to invest USD 700 million to build a factory near Bengaluru, which could significantly expand the production of Apple's smartphones in India.
It further claimed that Indian officials say Apple wants to shift 25 per cent of its manufacturing there amid concerns about China. Currently, India accounts for about 5-7 per cent of the total manufacturing output of Apple's components.
The planned manufacturing facility on a 300-acre site near the IT hub city of Bengaluru will manufacture iPhone components and may also assemble the devices. It will likely employ around 100,000 workers, making it about a third the size of the world's largest iPhone factory in the Chinese city of Zhengzhou.
According to the Bloomberg report, the new factory near Bengaluru could "boost the country's share of iPhone assembly to 10-15 per cent from a sub-5 per cent currently."
Forbes said JP Morgan projected last year that Apple will move 5 per cent of global iPhone 14 manufacturing to India by the end of 2022 and that number will rise to 25 per cent of all iPhone manufacturing by 2025.
Foxconn had earlier this year announced plans to build a major electronics manufacturing facility in the state of Telangana that would also create 100,000 jobs, but it is unclear if that plant will make Apple products.
Up to this point, Foxconn, which is the world's largest iPhone manufacturer has most of its plants in mainland China.
The shift to India is a result of global geopolitical trends in particular the tension between Beijing and Washington. In addition, due to both the COVID-19 pandemic and the Russia-Ukraine war, global manufacturers have been re-evaluating their manufacturing supply chains and outsourcing options. Some are considering strategies for "reshoring sourcing" and "localisation of manufacturing".
Many companies have become wary of supply-chain overreliance on China, the world's factory and are implementing or considering "China plus one" strategies aimed at building production across multiple markets.
Apple's reported plan to expand its manufacturing in India is to offset its reliance on Chinese factories. Foxconn's reported investments in India are likely an effort to align with Apple's goals.
Apple's operations in China were also disrupted by Beijing's harsh anti-Covid lockdowns last year including one which triggered protests at Foxconn's Zhengzhou factory known as "iPhone City," where Apple manufactures nearly all its iPhone 14 Pro and Pro Plus models. This disruption caused Apple to fall short of its production target for the iPhone 14 in 2022 by nearly 6 million units.
Apple is by no means the only large global manufacturer betting on India.
In March, Korean electronics giant Samsung announced that it will invest in setting up smart manufacturing capabilities at its mobile phone plant in Noida to make production more competitive.
Samsung, which started a manufacturing R-D centre in India in 1996, has now close to 70,000 employees in the country. Noida houses its second biggest manufacturing facility in the world and Bengaluru has its biggest research and development centre where close to 3,500 workers are employed. It has 10,000 employees at its R-D centres across India.
Samsung estimates that India will have one billion smartphone users by 2026 and its population of 600 million in the age group of 18-35 years makes it the largest population of Millennials and GenZs in the world.
In India, a strong and stable economy, dramatically widening incentive programmes, infrastructural improvements, and access to a large labour supply, form the basis of its appeal to investors. In addition, policy reforms are making it easier to do business in India.
The researchers at the EIU say that major improvements in areas such as education, better labour participation rate, infrastructure, taxation and trade regulation will further boost investments.
The EIU report concluded, "India's increasing viability as a destination for manufacturing investment is clear. Proactive government incentives for manufacturing, steadily improving infrastructure, low-cost labour availability and bilateral trade deals are driving gradual improvements in the business environment. Broader geopolitical factors and the search for alternatives to China will also encourage investors to look at India.
The country has a cto galvanise its manufacturing sector, which only accounts for less than 20 per cent of its GDP … to drive economic growth and exports."
It added that India will, however, face intense competition in attracting investment from Southeast Asian countries.